Currently Reading
Here's what's on my night table right now.
A return to one of my favorite periods in literature: Central Europe in the 1920s. This novel made me miss Berlin and miss the writing of Stefan Zweig. I never escaped the notion that the interlocking characters of the hotel are literary creations (in some cases literary confections); nonetheless, their journeys are compelling, their movements balanced and considered. And there exist a handful of moments in this novel where motivations are at once unexpected and true — these were exceptional moments. Read, October 2019. Image: The Pillars of Society by Georg Grosz
William Carlos Williams — Pictures from Brueghel
I am exactly the kind of fool who pushes poetry to the margins of my reading calendar. I picked this volume up because I had the opportunity to see several of Brueghel's paintings while in Brussels earlier this month. My interest was rewarded — in stark beauty, the giddy pleasures of small words backed by armies of consideration and truth. I read these poems at sea, where I work now, on a fishing vessel. New to the act of reading while pitching and rolling, I reckoned a book where words are well-spaced on the page would be easier to read. I keep this volume now in my bunk belowdecks. I feel lucky at the conspiracy of factors (Brussels, fishing) that delivered me unto this rich collection at this very moment. Unexpected turns in my life remind me, in themselves, of the movements inherent to poetry, as I'm sure poets understand better than I. Read, September 2019. Image: The Harvesters by Breughel
Shirley Jackson — We Have Always Lived in the Castle
Many pleasures and thrills in horror depend on the reader's alignment with an outsider to whatever horrific happenings take place in the story; Dracula isn't told from Dracula's perspective, much less does it depict the normalcy, to Dracula, of his life. Shirley Jackson's tale subverts the outsider-alignment paradigm by ushering the reader — swiftly, deftly, and with her mastery of narrative voice — directly into the shadowy world of the castle, where she holds us and asks us to consider the world on the shadows' terms. The characters of the castle are sympathetic, nuanced, and possessing souls as only the finest literary characters do. Masterful. Read, September 2019. Image: author photo
There are some good jokes in here, but they overcrowd the narrative and chip away at its emotional concerns. Seems like a reference point for the work of Paul Beatty, who strikes, at least for this reader, a finer balance between humor at the sentence level and emotional resonance at the narrative level. Read, September 2019. Image: author photo
A bar in Neukölln, Berlin, 2 AM: I'm reading this book, killing time before a later engagement, when a group of neighborhood cardplayers invite me to set aside my reading and join their game. They are lifelong friends, at ease with one another, and curious about me; one picks up G., reads the jacket copy, and scoffs. "Imagined sex in the imagined Europe of old — what a cliché." I had fallen for the cliché. And I maintain that, from a marketing perspective, the jacket copy of G. is outstanding. But my new friend had a point. Europeans of the past had no privileged insight to sex. And for a novel that purports to be about sex, G. Is not a sexy story. Writerly digressions (on the nature of representation, metaphor, the writing life, etc.) do no favors for the mood. I preferred the stretches of the narrative where Mr. Berger submits to the traditional pleasures of character and scene. Read, September 2019. Image: early flyers
Ingeborg Bachmann — Malina
The work of Ingeborg Bachmann represents a thoughtless omission in my reading of 20th Century Austrian literature. Thomas Bernhard championed her; Elfriede Jelinek clearly emulated her; and oh baby have I valued the amount of time I've spent on those two authors. So now I am glad to have reached Bachmann, though 'glad' does disservice to the work itself, for Malina is a bracing narrative. Cold water and a shore where footholds laugh at you. The novel of the unraveling mind sometimes (often, in my experience) offers its reader hope in the end; Malina situates unraveling itself as a continuum, a norm, an inhabited and uninhabitable place. Read, September 2019. Image: Lied in der Dämmerung by Franz Sedlacek.
Haruki Murakami — Underground
Research for a writing project. Deals with the sarin gas attacks on the Tokyo subway system, which occurred on my birthday in 1995. Read, September 2019. Image: Shoko Asahara, leader of Aum Shinrikyo, in a sham levitation.
Rare is the page of this thick novel that does not creak with the weighty possible. Since I last read Mr. Auster's writing, his sentences seem to have lengthened. They have become playgrounds where facts and incidents share space with emotion. They ring with midcentury modernity, chiseled but earnest, strange and beautiful as New York in the 20th Century. Read, August 2019. Image: 1968 Riots at Columbia University.
Roberto Bolaño — Nazi Literature in the Americas
A reread. The novel takes the form of a brief encyclopedia of literary fascist cranks. My purpose in reading it again was to reexamine the scope of the entries and how they built to a whole. I fear I spent more time laughing out loud than examining. About ten years ago this book made me fall in love with Bolaño's writing — his perspective, foremost. I'm no less enamored now. Read, August 2019. Image: author photo
Robert Musil - Intimate Ties
The man was a surgeon with a simile. Much of his prose outclassed Mann, Zweig, and Kafka. He gets called a pure stylist. It's true. The two novellas in this collection read as formal experimentation. Interesting, but lacking the traditional pleasures of plot and character (unlike his first novel, The Confusions of Young Törless, where he applies his prose chops to a gripping narrative). Read, August 2019. Image: author photo

Anne Carson - Autobiography of Red
File under odd and superb. This "novel in verse" uses one of Herakles's minor labors as the inspiration for a contemporary and precisely told tale of unrequited love. The connection between the myth and the story is tenuous. But because there is a large gap to bridge between myth and story, the narrative presents a pure expression of Anne Carson's imagination — and what a bridge that is. We see how she filters myth; at times it seems we see this process in real time. She could have taught Homer a thing or two. Read, July 2019. Image: Krakatoa
Sebald's first novel. I'm impressed with how his style (European wandering, personal engagement with history, photographs, the slide from fact to fiction) emerged fully formed. The rendering of Casanova's escape from prison in Venice resonated particularly for me. Casanova spends years gazing up at the solid rafters of his cell — until an earthquake many miles away shows these rafters can be shaken. Read, July 2019. Image: Casanova's cell
Richard Powers - The Overstory
Moby Dick for trees. But Moby Dick never made me jump out of my seat with the urge to hug a whale. The Overstory sent me straight to the forest: I lucked out in finishing it in San Francisco, where my sister and brother-in-law were kind enough to indulge my need to see/smell/hug a redwood. I'm loath to imagine the reader who finishes The Overstory with the same view of the world. Read, July 2019. Image: redwood loggers
Arthur Koestler - Darkness at Noon
The political is rendered personal in the slow vise of a prison. The vise belongs to Stalin. The man ground to powder: he too belongs to Stalin. We know the prisoner intimately, as man, as dust. We know, too, with bracing specificity, just how the vise is operated. A flawless 20th Century novel. Read, July 2019. Image: author photo
Michael Faber - The Crimson Petal and the White
Sugar: a prostitute, a master in the evaluation of men. Henry Rackham: a man she loathes, and loves, and loathes again. Her reevaluation is fully earned within the world of this novel (a mucky but generously appointed place). In Sugar's accumulation of agency, through the novel's late turns, the narrative overcomes its middle doldrums. Read, June 2019. Image: Van Gogh
VALERIA LUISELLI - LOST CHILDREN ARCHIVE
There's a trove of Polaroid pictures at the end of this book. For no better reason than to withhold a treat for myself, I chose not to flip back there to examine the Polaroids whenever they cropped up in the narrative. I feel no wiser to have taken this approach. Approaches to this novel are many; the narrative is laden with external media sources, and one could make the case that a thorough reader should consume/digest these sources concurrently with the characters. Or after them. Or before them… There is an illicit pleasure in scrutinizing the bookshelf of someone you don't know very well while they're in the other room. Read, June 2019. Image: Geronimo
ALEXANDRE DUMAS - THE COUNT OF MONTE CRISTO
I haven't cut my hair in a while. L's suggestion that it makes me look like a character from Dumas was among my reasons for reading this book. The count's fall from grace I found more engrossing than the revenge he wreaks. Maybe a question of pacing. Read, May 2019. Image: author photo.
PETE DEXTER - PARIS TROUT
Me in the bookstore: Have I read this before? It's just the kind of book I would have read on my "New South" kick of '06-07. Let's look at a page or two… Turns out I hadn't read it. And I'm grateful I didn't leave it on the shelf. I should have read it earlier. I would gladly read it again. It is a story crowding with life. Read, April 2019. Image: author photo.
WILLIAM T. VOLLMANN - EUROPE CENTRAL
Research/detail/scope/obsession. This is what I have come to expect from Vollmann, and no less impressive for being expected… But the chapters that thrilled me most were the cabalistic ones: Hitler as a Wagner fanboy-mystic; Stalin as the master of unsolvable riddles; a vast fungal network underlying stone edifices, reminding me that big -isms (Fascism, Communism) often rest on the flimsiest human fictions. Read, April 2019. Image: Käthe Kollwitz, "Die Überlebenden"
Alexander Pushkin - The Captain's Daughter
Just a few months ago I resolved to stop writing any story that does not contain amongst its character a compelling villain. So, I'm on the lookout in my reading for villains, and this story has a great one: a pretender to the Russian Tsardom — a cossack warlord whose followers have grown wild beyond his control. The pretender not once but several times puts our hero, a young officer, on the gallows, only to remove him. In this story, hero and villain understand — and in a way respect — each other. There is immaculate balance to this tale. Read, March 2019. Image: author painting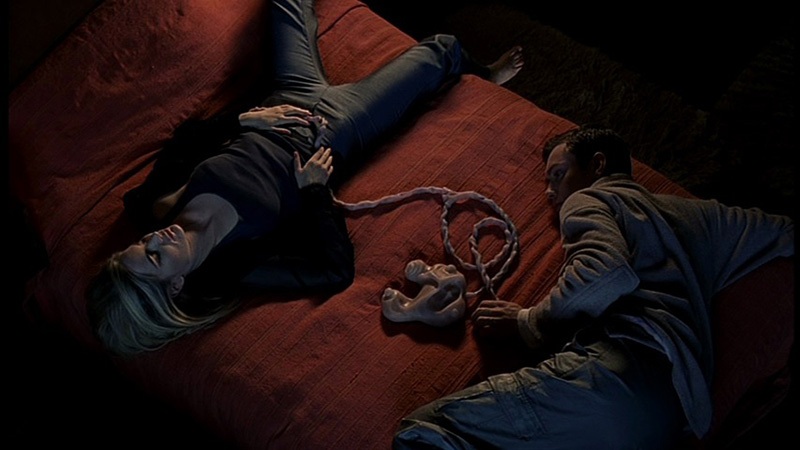 The first novella in this set of two is so good it makes the second feel wanting (and I'll ignore it here). As for the first… anyone who's ever wondered about the the possibilities of body horror in literature (as I have) will be thoroughly stimulated. There's a frame story that builds/sustains tension masterfully. There are unanswered questions; there is space for the reader's thought to bloom. This is the first piece of fiction from Will Self I have read, but not the last. Read, March 2019. Image: from Cronenberg's "EXistenZ"
Georges Simenon - The Man Who Watched Trains Go By 

I find it hard to go more than a year without picking up some offering from Simenon's abundance of excellent novels. This one rates highly against the others I've read. The main character is named Kees Popinga. That alone is a mark of distinction. Read, March 2019. Image: detail from book cover
LADISLAV FUKS - THE CREMATOR
After seeing the film while in Prague, I had to check out the novel upon which it's based. The protagonist is a Czech cremator being courted by the Nazis for his services. He's unhinged, pathetic, and sometimes hilarious. In the film, he's somewhat easier to laugh at, but the novel retains a sense of humor I found uncomfortably appealing. Picture me in airports reading this book and laughing out loud. Read, February 2019. Image: from the film adaptation
HERODOTUS - THE HISTORIES
Truth. Fiction. Truth/fiction. What is fiction? What is truth? Every page prompts a consideration of these big questions. But… if i'm honest I got the most pleasure out of Herodotus's colorful explications of the customs of 'barbarian' lands. They're rich, editorial, and never fail to inject a human aspect to a narrative (about war) that can sometimes lose sight of the people involved. In my translation (Aubrey de Selincourt's), Herodotus will often end one of his long digressions with something like "So much for the Libyans" or "More could be said about this tribe, but now I must move on." These transitions —abrupt but honest — always made me smile. Read, February 2019. Image: bust of the author
Currently Reading, January/February 2019